SUMMER VOLUNTEER PROGRAMS
For young people looking to make a change in the world, a summer vacation is a perfect solution. The two-and-a-half month's break from school is the most time during the year students have to invest fully in a cause they truly care about. If this sounds like you, you're in for good news. We have ton of summer volunteer opportunities abroad available. In fact, we bet that you'll have a tough time choosing only one out of the many places to volunteer over summer. We run over 150 volunteer abroad programs in 13 countries around the world, all of which are in operation between the months of May to September. That then only leaves one question — where will you volunteer abroad this summer with GVI?
Summer Volunteering Programs For High School Students
High schoolers often face more challenges when looking to make an impact than those who have already graduated. Their school schedule doesn't allow for much freedom and some are put off by the perceived risks of service work abroad. If you're still a high school student and want to become a global changemaker, don't let time restrictions, someone else's opinions, or your own doubts and fears stop you — You can make a difference even if you have not left school yet. At GVI we make it our business to provide meaningful, exciting and highly rewarding, yet safe and supportive summer volunteer programs abroad for teens. We know that current critical global issues will have a greater and longer lasting impact on the youth of today than any other generation currently living on our planet. That is why we understand that today's teenagers want to be involved not only in the discussion around these issues but also actively involved the solutions on the ground. That is why we run 14 volunteer trips around the globe specifically designed for volunteers under the age of 18 which are all in operation during the summer months when school students have time off from their classes. So if you're looking to make the world a better place, but are still in high school, be sure to take a look at our summer volunteer opportunities for teens.
Download our program brochures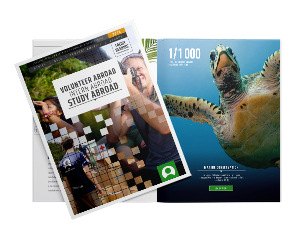 Summer Volunteer Video Testimonials
OUR SUMMER VOLUNTEER PROGRAMS