Volunteering in Africa with GVI offers a wide variety of opportunities to make a sustainable long-term difference.
As the second most populous continent in the world, and with over half the continent under the age of 25, your time and skills would be greatly appreciated over a range of different focuses, including childcare, public health, teaching, wildlife conservation and more.
With the contribution of volunteers, we work together in partnership to achieve our goals.
Volunteers in Africa can spend their gap year, volunteer holiday or career break volunteering one one of the following programs:
We are proud of our approach of establishing long-term and sustainable projects, in which the local community is always consulted first in order to determine their needs.
WHERE DOES GVI WORK IN AFRICA?
In Seychelles you can get involved in hands-on conservation efforts. On the island of Curieuse we work towards protecting the island environment, this includes lemon shark and turtles conservation and doing Coco de Mer and mangrove distribution surveys. On Mahe participants dive into the warm waters of the Indian Ocean to contribute to valuable marine conservation programs. Whether you are looking to gain your PADI Divemaster, join one of our internship programmes, gain some work experience or just simply want to give back, our Seychelles hub offers a variety of options to help you make a genuine difference.
In South Africa we have a good mix of wildlife conservation and community development opportunities. In the friendly city of Cape Town we run a variety of public health, teaching, construction and volunteer with children programs that benefit members of the local townships. If conservation is something you are passionate about, then our hub in Limpopo is just the place for you. Africa's volunteer opportunities lets you get involved in conservation efforts to protect the famous Big Five (African lion, African elephant, Cape buffalo, African leopard, and rhinoceros); our hub here is host to some of the most remarkable wildlife, landscapes and conservation opportunities South Africa has to offer.
Join GVI sustainable development team starting volunteer work in Ghana during the summer of 2018. Volunteers will have the option of working on education or gender equality programs and can choose to undertake their work as a three month internship.
Download our program brochures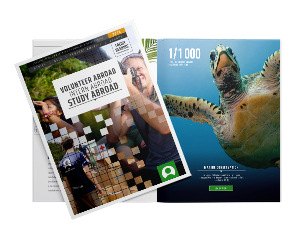 Our Videos & testimonials
Think miles and miles of unspoiled pearly beaches enfolded by azure waters, lush mountains, wildlife aplenty and sunsets [...]
Think miles and miles of unspoiled pearly beaches enfolded by azure waters, lush mountains, wildlife aplenty and sunsets [...]